Dil Bechara Pyaar Ka Maara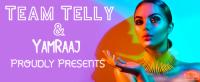 Dil Bechara Pyaar Ka Maara
Date:
07/24/20 at 4:30pm GMT+1
File size:
1.3 GB in 1 file
Plot:
Loosely based on the 1957 classic "Dekh Kabira Roya", this is a story of three male friends, Deepak, Vinod and Sanjay. While Sanjay runs a business; Vinod is an ardent cricket fan and player; and Deepak a singer. The three pals meet three young ladies named Neela, Shree, and Sherry, who would like to marry a businessman, a cricketer, and a singer. The dreams of these ladies do come true, and they wind up on a marriage pandal with the love of their lives. But wait, Neela who wanted to marry a cricket player is about to tie the knot with businessman Sanjay; Shree wanted to marry a businessman but ends up with Deepak the singer; and Sherry who wanted to marry a singer ends up with cricketer Vinod. To add to the confusion are gangster Tundabhai, and a Pakistan-based terrorist, Chaman Chindi, who are out to kill Sanjay, Deepak and Vinod, so that Tundabhai can add Neela, Shree and Sherry to his harem - & the result is utter and hilarious chaos.
Infohash:
c6a037403c572f45a568ee6c8ab477358d304345
Dil Bechara 2020 720p DSNP WEB-DL DD 5.1 x264-Telly

Dil.Bechara.2020.720p.DSNP.WEB-DL.DD+5.1.x264-Telly.mkv

1.3 GB



No Similar Torrents Found

If we find similar torrents, we normally show them right here. We couldn't find anything for "Dil Bechara DSNP DD xTelly".